WILDLY CAPABLE
"This [piece] is a tribute to women and the beauty that lies in their strength." -Lindsay Zodrow
HELLO there.
I am Dana Scott; a mother, wife, friend, daughter, maker, shop owner, hair stylist, and a woman.
As a woman (but really just as a human in general) I struggle daily with balance of all the things; things I want to accomplish, people I want to love on, relationships I want to nurture, and then not to mention laundry, groceries, showering (you know all the things you have to do to exist). A while back, when I am sure I was struggling with being a newish mom and a small business owner (and probably being too hard on myself) someone sent me something that said "Never forget how wildly capable you are." Really and truly I have held that close to my heart (and my head) and it has in a way become a mantra. Whenever I am having a hard day or feeling defeated I remind myself I am wildly capable.
We are far too hard on ourselves and often find ourselves giving grace to others when we should really be giving more grace to ourselves. I wanted to do something to remind everyone (not just women) that we are all wildly capable, capable of things we can't imagine, capable of things we didn't know we had in us, capable of forgiveness, pushing through pain, loving when it isn't easy, getting out of bed when we don't feel like it, biting our tongue when we don't want to, speaking up when it doesn't feel natural, stepping out of comfort zones, and sometimes the one that is the hardest, just making it to the end of the day.
International Women's Day falls on 2nd Friday Art Walk for us. We want to celebrate how wildly capable we all are so we gathered a group of ten women that we feel have a strong voice and a beautiful medium for sharing that voice.
Keep reading to learn about the 10 women finding their own inspiration in the phrase WILDLY CAPABLE.
Lindsay Zodrow said it perfectly about her piece but I think it applies to the show as a whole, "This [piece] is a tribute to women and the beauty that lies in their strength." I hope you'll join us Friday night from 6-10pm to see all these beautiful pieces and the perspectives they hold hanging on the same wall!
Bekah is the artist behind @prawduct on social media, opened @aforethought.co this past fall to house her mess and provide a space for hearts to find healing.

I wanna paint light into the world. Brighten up the shadows my neighbors find themselves in. My medium is transparency (+ acrylic). But I aim to be raw + honest within my work. I think if I offer that to you, the viewer, maybe it'll encourage you to do the same + that's beautiful, that's where healing is. I want that for all of us.
WILDLY CAPABLE: "Wildly capable"...that being just as I am, being bare with those around me gives me all the tools I need to conquer what is before me. When you're your truest self, you attract the people who belong in your corner. The right people beside you will help open doors of opportunity, ones that grow you. With my piece I hope any girl or woman who looks at it will see herself in it. Bold, intricate, messy, vibrant, soft + hella capable.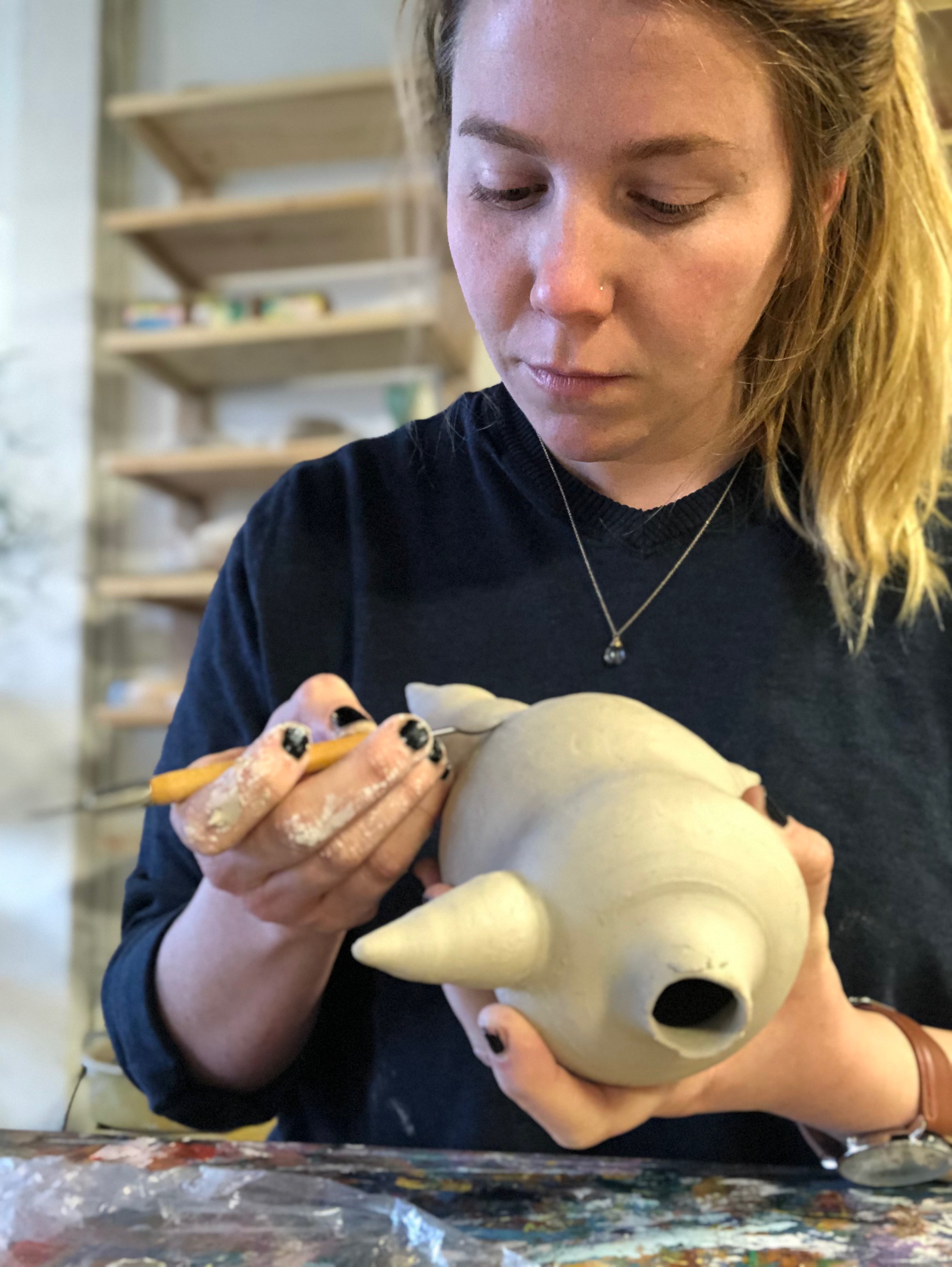 Clay first found Louisa almost 10 years ago. While studying Art History, Louisa was instructed to learn one of the mediums she knew only from textbooks, and found herself in a wheel throwing class. The rest is messy and wonderful. Louisa is the co-owner of Oil & Clay Studio in Norman, where children of all ages are encouraged to explore creative self-expression.
WILDLY CAPABLE: As a potter I spend a lot of time thinking about hands, specifically the wildly capable hands that will enjoy my wheel thrown wares. I daydream about who those hands love, how they hold, when they fight and, more beautifully, forgive. This show inspired me to try something new and sculptural with my own hands. I wanted to honor the wildly capable in others by exploring it within myself.
Nora is an oil painter and co-owner of Oil & Clay Studio in Norman. Drawing inspiration from the world around us, Nora's work focuses primarily on landscapes and creatures of the American Southwest. She is currently working on painting 100 animals native to Oklahoma.
WILDLY CAPABLE: What does wildly capable mean to you? What inspired your piece?
As humans, we have so much to learn from the natural world. One being that few things are more precious and important than raising the next generation. 'Head Hug' was inspired by the parents, teachers and mentors giving the very best of what they have. Whatever your definition of "mother" or "parent" may be, I bow my head to you.
You might see Kayli around The Social Club as their Shop Manager. She loves local, her lil family, and creating new treasures out of old forgotten things. Kayli's love for thread work began as a kid when her grandma taught her how to cross stitch. She also loves finding vintage clothes, home goods, and other long-loved items. These two passions came together when Kayli started Created and Found, her vintage shop that operates out of a pink 1969 canned-ham camper.
WILDLY CAPABLE: Most of the time I don't feel capable and forget my potential. With hand embroidery, needle punching and other thread work, I work a lot with my hands. Before I start a project, when I look down at my hands I find it the hardest to just start. But just starting again sometimes is the best reminder of how wildly capable you really are and with that small start you can create something truly beautiful. Keep going and never forget how wildly capable you are!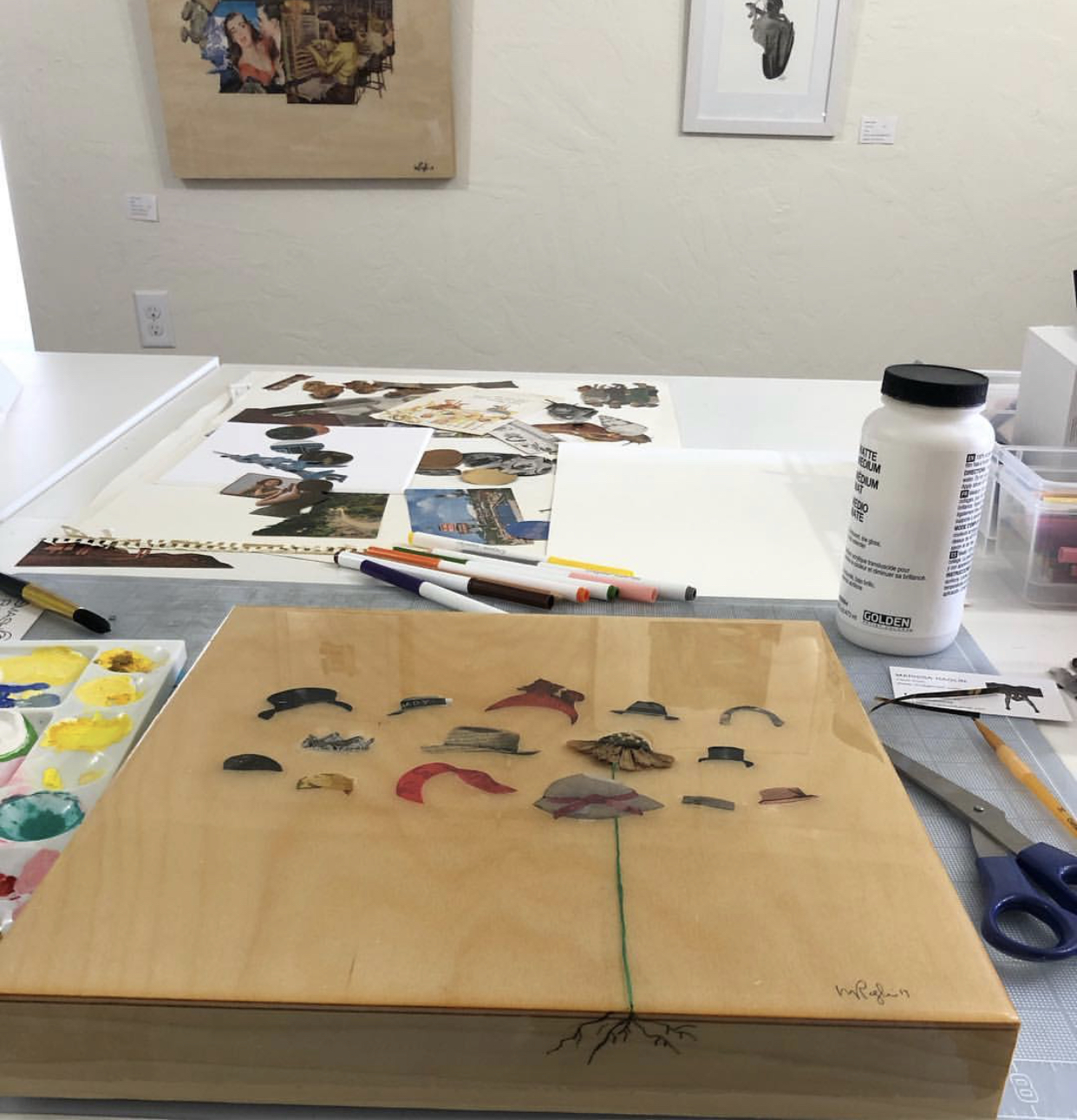 M A R I S S A R A G L I N
Marissa is a visual artist living in Oklahoma City. Currently working in handmade collage and resin, she can be found knee-deep in old illustration books and magazines plucked from thrift stores and half-priced book shops. Raglin earned her BA in Studio Art from Oklahoma Baptist University with an emphasis in painting. However, she always found herself gravitating to works on paper. It was not until 2014 that Raglin picked up the Xacto knife and began working in collage. Raglin is the the 2017-18 Skirvin Paseo Artist in Residence and a 2015 Artist Inc. Live OKC Fellow.
WILDY CAPABLE: A couple words come to mind when I think about the terms wildly capable: resilient and determined. I asked two of the most important women in my life, my mother and sister, to discuss these terms with me and the main concept came to mind, as women, we wear many hats, we juggle, and we balance the challenges we face with resiliency and determination. My work is inspired by the act of juggling, and the many hats we wear.
I am an artist from the Pacific Northwest. I travel between Washington and Oklahoma very regularly. I am a watercolor painter, floral designer, I make coffee, I have a dog and I am outside as much as possible!
WILDLY CAPABLE: The idea that I am "wildly capable" is a reassuring sentiment. WILDness is important to me as I grew up in a forest and on the beach. This feeling of freedom is motivating to me and I feel my best when I feel free and creative. Being capable is my permission to act on these impulses. If I can, I will try to!
I chose the Arctic Tern, to represent wild capability. I've spent a lot of time with this tiny, fragile bird. They look, to me, like the most fragile, flying origami, yet they travel farther than any bird on earth and they do it twice a year. They are gorgeous and perfect and scream and dive bomb your head if you get too close to their nest. I like them a whole lot.
J E S S I C A S K I N N E R
I am Jessica Skinner, the one gal behind Loveleigh Creative. My middle name is Leigh, which is where the business name came from! My husband is a fireman/rancher/all around do-er and we have 3 kiddies, 5 year old twins and a 2.5 year old who all keep me on my toes 24/7! I am a work from home mom and have always lived in Oklahoma. My business is so much my creative outlet and having this hobby be my "full time job" is a genuine dream come true! I love to create and feel very boundless in this business, I can't say I've ever had an end goal for Loveleigh, I just love to be artistic! I love finding new focuses and trends throughout the seasons.
WILDLY CAPABLE: To my 2019 self, Wildly Capable means being enough with the energy and capabilities I have to give. I love how this phrase can preface any statement. I am Wildly Capable of being simple and fulfilled. In a world of non stop go, reach for the stars, be the very best: I am so glad know that I can be content with slowing down the hustle and enjoy the now.
K A T H R Y N W A K E F I E L D
Kathryn is the founder of Confetti Riot, a textile and home goods business she started in 2012. She is also a graphic designer whose work you can see around the Social Club and also on the labels of Norman's own (405)Brewing Co. Kathryn grew up in Norman but has recently relocated to Houston where she continues her work in a slightly warmer setting.
WILDLY CAPABLE: When I first hear Wildly Capable, I think about the things I have not done but know that I can do if I set my mind to it. Quilting is skill I have always wanted to give a try so I could carry on my grandma's legacy. She took on quilting later in her life as well and has become quite legendary in our family. Her biggest project was to make a quilt for each one of her future great grandchildren - assuming we'd each bring her 3 a piece - so she created 27 quilts. I just recently picked out one of my quilts when I turned 30 (which you got to do if you hadn't had a child). It's something I will forever treasure and hope to keep within the family for many many years to come. The piece I have created was also inspired by the phrase Wildly Capable. Whenever a new day begins, it's another opportunity to show the world and yourself just exactly what you are capable of doing.
B E C K Y W I L L E F O R D
My name is Becky Willeford and I live in Norman with my husband Jason and our 4 children, Ben, Jones, Annie and Tom. In college I was too "serious" to major in anything I truly loved, like performing or visual arts, so I became an engineer instead. Making art has always served as my creative outlet and a wonderful escape from the structure of my day to day tasks.
WILDLY CAPABLE: The piece I'm submitting is Untitled but features a woman whose future is so bright she has to wear shades. To me she looks wildly capable; capable of taking on the day, capable of taking on anyone in her way, and capable of receiving back the love she's putting out in the world.
L I N D S A Y Z O D R O W
My name is Lindsay Zodrow and I am the former owner of Collected Thread, a little handmade shop in the Plaza District in OKC. After closing the shop last February, I embarked on a season of rest, dreaming and looking forward, as well as growing a human. While getting ready to welcome my daughter, I decided to create a series of pieces for her room, including an embroidered piece. I had played around with embroidery in the past but just simple stuff. This year I have straight up become stalker level obsessed with it. It is my therapy and a fun way to do something different with my drawings. It feels like an adult coloring book on crack...that takes forever to finish and makes me look like an old lady. I don't know why all the kids aren't doing it.
WILDLY CAPABLE: OK, what does Wildy Capable mean to me?
I am incredibly proud to be a woman, not just in this period of history where women are speaking up and bringing change, but on a more personal level as well. This year my husband and I welcomed our third child, a child that my body created. Her birth has made me feel incredibly powerful, not just in my ability to birth a baby but in my ability to manage motherhood, work, and being a creative. Sure, there is plenty of self doubt and madness (so much madness) mixed in among this empowerment but there is also pride in knowing what I am contributing to my family, my city, this creative community, friendships, and my story. This piece is a tribute to women and the beauty that lies in their strength.

THE ART WILL BE UP FOR THE NEXT FOUR WEEKS.
IF YOU CAN'T MAKE IT FRIDAY PLEASE STOP BY LATER ON TO EXPERIENCE IT!